House Of Blues Foundation
MLK Birthday Celebration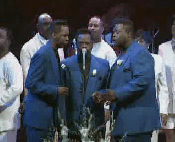 ---
The Starlights perform "Lift Every
Voice and Sing" with the
Los Angeles Love Crusade Gospel Choir

---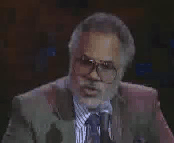 ---
Dr. Eugene Grigsby III, opening speaker
and director for the Center Of African American
Studies at UCLA.
---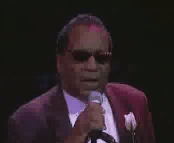 ---
Clarence Fountain and The Five
Blind Boys perform the song
"Precious Lord."
---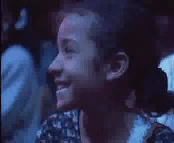 ---

One of the 500 students present watches on




---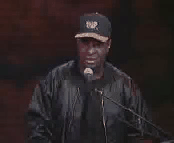 ---
Chuck D. (Public Enemy) speaks about
the civil rights movement
---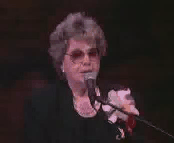 ---
Shelley Winters speaks regarding her
marching with Dr. King. As she completed
her statement the choir sings "Freedom Highway."
A dance troupe of 6 children performs
on stage with the choir as she completes her statement.
---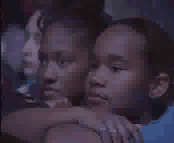 ---
More students look on,
learning more about the history
of Dr. King
---
---
Jonathan Greer and the LA
Love Crusade Gospel Choir
---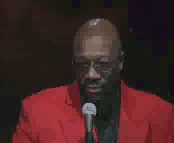 ---
Isaac Hayes speaks about his childhood
in the south and his friendship and admiration
for Dr. Martin Luther King.
---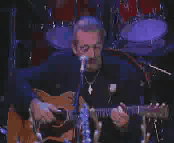 ---
Charlie Musselwhite performs an acoustic
guitar piece
---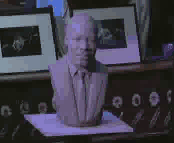 ---
Tina Allen, designer of the future Statue
of Liberty for South Africa unveils a new bust
of Martin Luther King, Jr. The unveiling is
performed by Academy award winner actress Alfrie Woodard.
---
---
Stevie Wonder sings "Happy Birthday" as
a tribute to Dr. King
---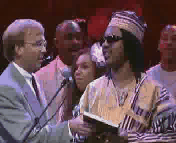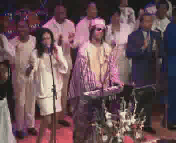 ---
Ron Bergen presents a House of Blues
Foundation award to Stevie Wonder.

---


Images forthcoming for the following:
Roscoe Lee Browne: To speak and recite poetry. A very moving poem about the heroic acts of Harriet Tubman.
Pat Harvey: Introduce Tina Allen. This presentation will take place on the floor in front of the stage.
---
IUMA / House Of Blues / MLK Birthday Celebration
Send feedback to hob-mlk@iuma.com