Live Up-to-the-Minute Report
NOTE: this was the last set of snapshots of the show!
This page will be continually updated as the event proceeds. Reload this page to get new screens shots of the Five Blind Boys of Alabama's concert as it unfolds at the House of Blues. Please send your comments, requests or questions before after or especially during the event by mailing to hob-mlk@iuma.com. We will do our best to post your comments or fulfill your requests.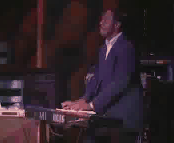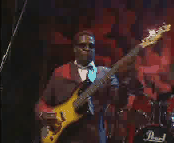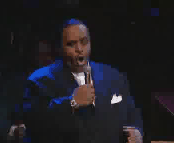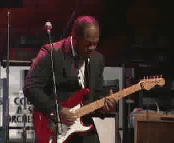 Look here for a live up-to-the-minute report of the concert
---
Whoa that's not Charlie Musselwhite, he looks more like Charles Barkley.
---
This on the scene reporter isn't doing the best job. Charles Barkley is not on the stage, but a reverend is. They just played a deep nand soothing duet to finish the Blind Boys set. ..
---
UP NEXT COUNT BASIE'S ORCHESTRA
The Blind Boys are jammin' a bit more purposefully now... winding it down but still laying down beautiful soulful riffs and jams. God Bless Us All! The gospel/soul groove is alive and well. Charlie Musselwaite is joinin them on stage for an encore.
---
How many of the Boyz are really blind??? Buzz around here is that three of them are. FACT There are seven musicians in this band. This is a beautiful finish to an incredible celebration of Martin Luther King Jr.'s birthday. The House of Blues is not only one of the hottest clubs in L.A. but they are really giving back to the community. They have, already in their short existence, given a guided tour ( field trip) of the House of Blues to 5,000 elementary and secondary students. They provide an educational experience, showing youth how much history there is in the traditions of the Blues from slave songs to B.B. King. Cool.
---
---
The club is filled and rockin' with excitement... The boys sing upbeat R&B to true gospel odes to Jesus
---
Clarence Fountain is presented an award for outstanding service by the House of Blues Foundation. The Five Blind Boys of Alabam sing Gospel....a combination of rich harmonies and soulful insturmental music makes for a very moving experience.. Wish you could be here!!!
---
Charlie Musselwhite plays a moving blues set. What can I tell you man...it's the blues it churns your insides out....Charly played a short set with guitarist JJ Holliday. Next up The Five Blind Boys of Alabama
---
---
The house is a-rockin'!!! The Five Blind Boys of Alabama have been tearing up this House of Blues. Sweet soulful organ licks that move the soul. Our butts are groovin'....
---