Click here to enter the pre-show image gallery
6:00 p.m. - The Line Outside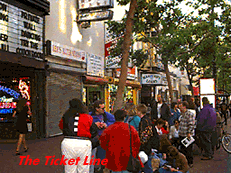 Jodee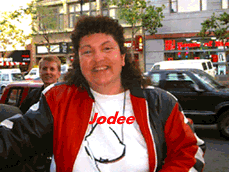 Jodee was the first person in line and she'd been there since 4pm today. The show starts at 8pm with Joan hitting the stage at 9pm. She first got into Joan's music by way of a Melissa Etheridge concert in which Joan was the opener. She didn't catch Joan last time she came around but this time she "had to" come. Jodee says, "I like her melodies. She has a great voice." Jodee's anxious to she how she does as a headliner. She says, "Her CD doesn't do her justice. It's always better to see someone in person. I want to be up-close. We stood in the first row for Melissa but I've been working all day and my feet are tired. She's on the cover of Rolling Stone, so she's made it, but she seems like a good person. I'm looking forward to the show."
Michael
"You're putting me on the internet! I read about the concert in the paper, The Stockton Record.
I want that pass you're wearing.
I want her autograph.
I can't get the internet, I can't afford a computer.
This is my mom (Pat) and my aunt Mary. We've been here since 3pm around these hoodlums on Market Street.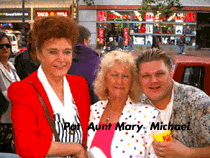 I tried to get Joan a rose. I want to go on stage and sing "Crazy Baby" or "Dracula Moon" those are two of my favorites. She's my girl," he says. "Even my Mom loves her. I bought her the CD and got them these tickets for their birthdays. I want to go up on stage and sing with her. She's got nothing on Alainis Morrisette. Joan didn't need to win a grammy, she's better than her. I was going to bring a big sign, but they told me I couldn't bring it. She's a fox, she's got them hips. I waited out back for her [during the soundcheck] and heard her warming-up "St. Teresa." Ask Joan if I can buy her a drink, ok? Kentucky Whiskey."
David and Jan
They were about halfway back in line. They had been there since about 6:30pm.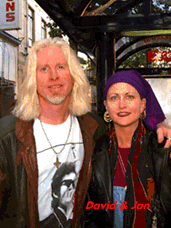 David: "I'm actually am a fan of G. Love, and I've got to get up at 3:30 tomorrow morning. He played last week with his girlfriend at The Bottom of the Hill [a small club in San Francisco]. I saw Joan for the first time on Grammy night.
Jan: "I love G. Love (and Special Sauce). They're really fun. One of our friends saw them without Special Sauce and I was hoping they are all here. It would be a big disappointment. They're funky. We like to get up and dance in the balcony. The first CD was cool.
'Go get the cold one, stick it in the fridge, stick it in the fridge...'
When I first met David he would say all these little thing to me from G. Love. Joan is real good. There's a lot of things you don't hear on the radio that are real good.
So people home on their computer will be seeing this and reading this?"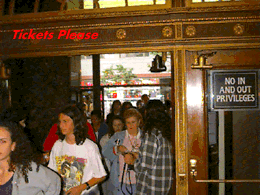 Interviews by Laura Belzer of JetPack