ROEL PIEPER
Tandem Chief Executive Officer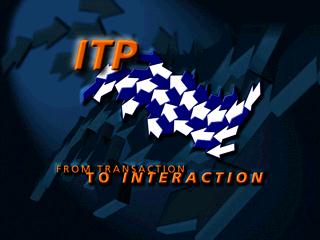 Thank you Tim, and Mark Travel.
Security and trust are the cornerstones of ITP or for that matter any transaction that involves the exchange of assets. Tandem has a long history of providing this trust and security.
Nothing can be more rewarding than saying we have the proof, and can validate our vision in the real world. We are clearly in a unique position to make that claim. With Atalla, our security products division, we have proven that. More than 70% of US financial networks are secured by Atalla products.
Because this is not a closed, one company solution, there are other companies that have much to offer toward fulfilling and expanding this vision.
Online networks will serve as the transport for music, video and text. Obviously, Hollywood is very interested in this idea.
Digitized music and video could introduce new distribution channels over the networks. It also poses risks. But the opportunities are unlimited.
None of this will ever happen without robust asset management to protect and secure these digital assets. Tandem is working closely with CAA on developing models for this to take place.
This morning we announced our work on developing Planet Hollywood On Line.
We have made a strategic equity investment in Interval Incorporated, together with Banker's Trust and Verity.
Interval has developed a solid foundation of proprietary technologies in the areas of cryptography, certificate processing, micro-payments systems and digital rights management.
We feel that Interval's technologies combined with Tandem's Atalla are essential to solving the problems of payment and copyright issues that have been a barrier to electronic commerce over the public network.
Together Tandem will provide leading edge products and services that will make ITP a reality.
We are very proud of our relationships with these innovative companies.
This is just one of many new partnerships that we will be making on the road to a fully-implemented ITP world.
This morning you have seen our new directions. You have seen our new strategy, and our new products. You are now the first to know all about ITP.
Let me briefly recap, and refresh your memories on a few key points:
We have made the commitment to move to an open internet systems architecture. Why? Because it will serve our customers better as they enter the interactive transaction age.
The market in some ways is actually moving towards Tandem. We are no longer a lone wolf. We have developed strong, unique partnerships with the leaders of other segments of the industry. Partnerships that will extend our technology to more customers, in more applications.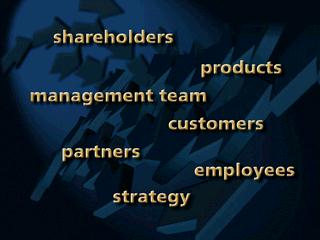 We have strengthened our management team, we changed our organization and our business models.
We have blended together new managers such as John Losier, Eric Doggett, Tim Wild and myself with strong Tandem talent such as Kurt Friedrich, Bill Heil, Jerry Peterson and Dave Rynne. And in fact yesterday we announced the appointment of Enrico Pesatori, as President and Chief Operating Officer of Tandem. At this time, it is my pleasure to introduce you to Enrico.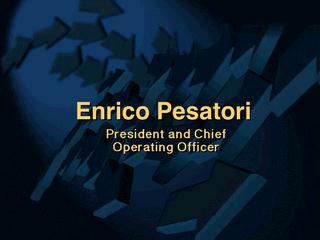 ENRICO PESATORI
Tandem President and COO
Good morning.
I am delighted to be here for this important occasion.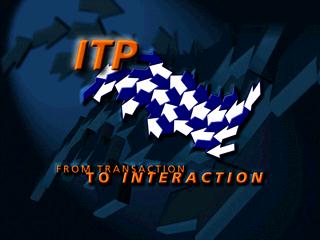 I have to say my timing is very good to be making my first remarks as the new president and COO of a company, just as that company is making its most dramatic strategic shift and new product announcement ever.
It is more than coincidence. The reason I have decided to cast my lot with the New Tandem is because it is the New Tandem.
After spending a good deal of time with Roel, and exchanging views on the the future of the industry, I could see that Roel and other members of senior management are carving out a unique and powerful position in the market. A position and vision that I completely support and will work hard to implement throughout the company.
I came to Tandem by way of Digital Equipment. What I was looking for was a global company with an established brand name, a first rate customer base, first rate product technology and the financial resources for expansive growth.
For the past three quarters, Tandem has been profitable, exceeding the analyst expectation, and in the coming quarters, and years to come, we are going to see Tandem's vision of ITP generating new revenue streams from a broader range of products, services, licensing agreements and joint ventures.
Certainly, the partnerships with Microsoft and our other new partners are a great way to start a new job.
This company is on a well energized and well-directed trajectory. My job is to keep it on course and manage mid-course adjustments to make sure we hit our targets, both financially and technologically, to become again a true market maker.
There are challenges as we steer this company ahead. However, if we improve our time of execution and act decisively, I am confident that the quality of our management team and our dedicated employees will be able to meet and exceed what is expected from us.
For me, NT means "Now Tandem."
Thank you.
ROEL PIEPER
Tandem Chief Executive Officer
Along with our long-standing expertise in parallel processing and software fault-tolerance, we now extend our expertise to new high performance Intel/Windows NT platforms.
We have also designed our highest performance Himalaya servers to seamlessly interoperate with NT servers via ServerNet.
Clustering is our heritage and our future.
We would also have to claim that serious, industrial-strength Enterprise NT does not happen without Tandem.
For Tandem, the evolution from OLTP to ITP is natural and makes perfect sense, for our customers and our own business model.
ITP is our new flag, our new banner.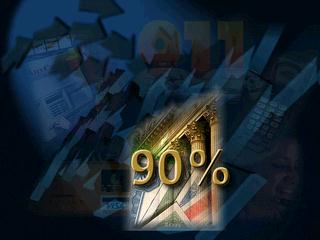 ITP is Tandem.
ITP is made possible by our unique combination of scalability, reliability, fault tolerance, throughput and above all else, Trust and security.
We are the company that already handles 90% of the world's security trading, 66% of all credit card transactions, 80% of ATM transactions. Think about it, that's a staggering amount of the world's business.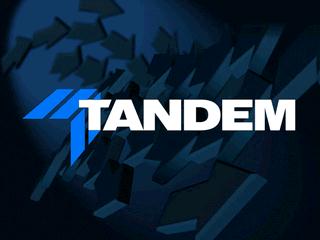 If you want to do transactions in electronic space, on the internet, on the intranet, you need us.
You can trust NT ...New Tandem.
Trust Tandem to get you to there.