ROEL PIEPER
Tandem Chief Executive Officer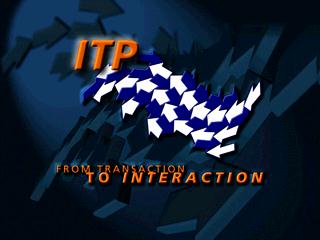 Thank you, Peter.
As Peter just described, a new era is upon us, in which a new "market space" is being created.
The number of users online, the amount of data online and the number of services being offered is exploding.
Now that many people have become increasingly comfortable with e-mail and online communications, they are beginning to realize the value of being able to conduct more of their personal business on line.
And that means more transactions, but also different transactions.
Consumers will realize that conducting transactions on-line is empowering. It puts the ball in their court. As Peter said, we will enter the Age of the Consumer.
What will make a business more attractive to consumers on the web? The same things as always in merchandising, an appealing environment, excellent service and competitive prices.
An appealing environment? That means rich multimedia interfaces or very simple and effective interfaces that are easy to use.
It means consumer users and business users with specific requirements.
Excellent service? That means integrating legacy databases and customer services, such as call centers. More and marketing to the individual consumer.
Competitive prices? As always, a more effective information system, yields a more competitive business through inventory optimization.
Add to all this the need to have a reliable and secure system for completing the financial aspects of a transaction.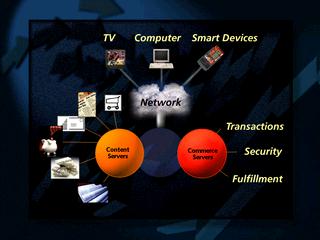 Let's consider for a moment the demands that all of this will place on the infrastructure to support it. We are talking about massive volumes of data moving faultlessly from servers to hundreds of thousands of web clients at the same time.
There is only one company with the expertise and the technology to manage this new transactional model.
Only one company with the servers specifically designed to handle so many demands with security, stability and efficiency.
That company is Tandem.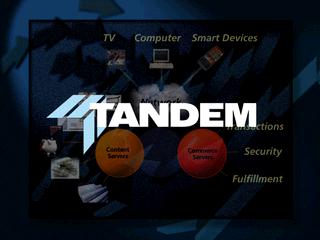 For over two decades, Tandem has been the backbone to electronic commerce in On-line Transaction Processing space.
The infrastructure that Tandem created was built to withstand any stress and survive any contingency....And it has.
Today there are 20 thousand clustered computers in operation. More than 50% are Tandem.
Now it's time for the company that invented on-line transaction processing to lead the way in making the internet a trusted, reliable place for commerce.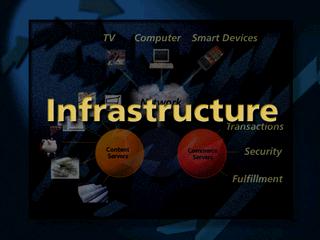 Our mission is to be the Server Infrastructure provider for this new era of networked interactive applications. Our focus in on the commercial and telecommunications market.
Our trusted OLTP is now evolving to be trusted ITP.
Now the internet requires a more open architecture than what we've been providing.
The New Tandem is more open. Not just architecturally, but also within our own organization, which has been re-aligned to enable our new business strategy.
What is our new strategy?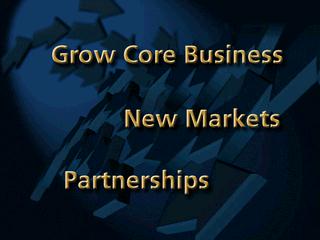 First, we intend to innovate and grow our core business with our Himalaya ITP servers and with new NT ITP servers, which taken together yield a "best of both world's" environment.
Second, we will extend our solutions to new markets. That means applying our ITP clustering knowledge to NT.
Third, we will create strategic partnerships with industry-leading technology providers to augment our core strengths. That means ServerNet, ServerWare, CA and other key technologies.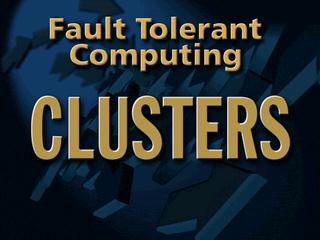 The core strength that we are most recognized for is clustered fault-tolerant computing.
To understand what makes Tandem different requires a basic understanding of the concept of our fault-tolerant computing systems.
Fault-tolerance is fundamentally achieved through clusters. Clustering is a technology that creates multiple systems within the server.
Each server is actually many separate computers networked together to create a larger ensemble that is called a "cluster." It is this redundancy that makes a Tandem server non-stop and also provides incredible throughput.
The most challenging part of clustering was perfecting the middleware and system software -- but we did it.
Our ServerWare database and transaction processing software was designed from the ground up around a clustering architecture.
The first part of our new strategy, to innovate and grow our core business, required new thinking. New thinking to enable our customers to meet the new challenges posed by the massive bandwidth requirements of media rich, transactional applications. We have met that challenge by re-architecting our core product, the Himalaya product line.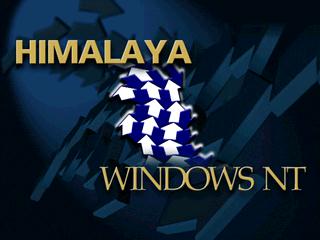 We have improved its functionality, performance and price-performance.
We are bringing high-availability to Windows NT.
Why are we doing this? Because our customers will be well-served by this option.
The demand for business-critical NT is growing every day. By integrating NT into our core product, longtime and new Himalaya customers will have stability and expandability to securely provide their services over both the Internet and Intranets.
We are building new Enterprise NT Servers that inherit many of our benefits from our high-end Himalayas, and are designed to be fully integrated with Himalaya.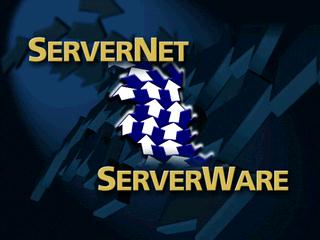 Secondly, we are unbundling our core technologies, ServerNet and ServerWare, and licensing them to our industry partners. By doing so, we are ensuring that our technologies will become widely adopted by the entire industry.
This brings us seamlessy to the third point of our strategy: Partnerships.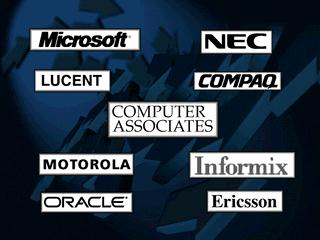 We have partnered with best-of-breed leaders such as Microsoft, Computer Associates, NEC, BEA, Erickson, Lucent, Motorola, COMPAQ, Informix and Oracle in order to extend our fundamental strengths to a growing circle of customers in the NT space by licensing our own technology.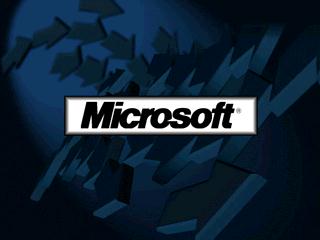 Today I would like to specifically speak to our alliance with Microsoft around Windows NT.
Our ability to deliver a quality, scalable, reliable NT system is crucial to our strategy.
When Microsoft and Tandem discussed joint opportunities, we recognized that it would be a WIN/WIN situation for everyone. For the two companies, and for our customers as well.
So, how are we going to work together to fulfill all the requirements that must be met to bring enterprise NT business-critical ITP and ITP Himalaya clustering to the mainstream of electronic commerce?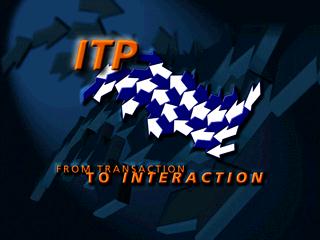 This morning, we have our key partner joining us by satellite, Microsoft's Steve Ballmer, a good friend.
Steve, thanks for joining us today. Among other things, We've been talking about how power is moving to the customer. And thus the nature of the transaction will be different and carry with it new requirements. Very different users, more data and users, and online services.
---
Steve Ballmer
Executive Vice President, Worldwide Sales and Support Microsoft Corporation
(via satelite)
No transcript is available for this feed.
---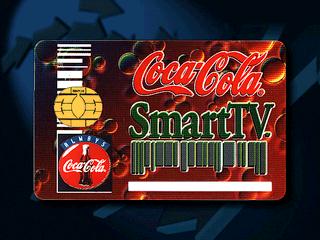 (Smart TV set up)
(Planet Hollywood On-line discussion)
Roel Pieper Continues....
Today I have outlined Tandem's vision for establishing ITP as the foundation for electronic commerce.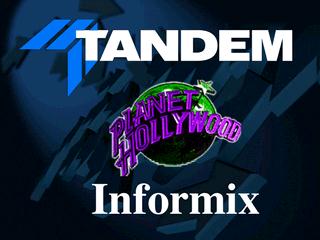 I have stated what we feel is needed to get there.
Now, I'd like to address our vision of how we believe internet transaction processing will evolve and what challenges we anticipate in the future.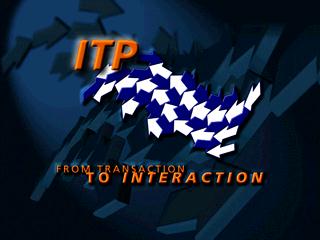 The first thing we believe is that new application environments are going to arise in virtually every space.
On the user interface side, the client side, the possibilities are wide open. Pick a field of endeavor, call centers, telemedicine, wireless and wireline devices, smart appliances, Smart TV, NCs, net PCs, it is quite a battle ...You name it, the change is coming.
We will have to provide many different interfaces that allow the consumer user and the professional business user to feel good about using these new services.
Well, mobility is one of the major issues. Everyone will be demanding information when and where they need it.
Security is a necessity. And it must not impede access and economy. This is essential to generating revenue online. Users need to be properly identified and accurately billed for service.
This is going to an expansive marketspace. So there needs to be an infrastructure that can scale. Again, for both commercial IT solutions as well as the telecommunications sector.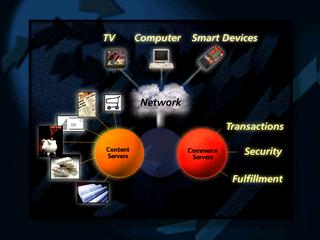 Another challenge will be the growing demands on bandwidth for entertainment, video on demand, interactive games, new entertainment forms still that are just a twinkle in the eye. As well as the more serious, multimedia-rich applications of telemedicine, on-line consulting, and other on-line, interactive operations.
And finally, there will need to be more cooperation in developing user interfaces and devices that consumers will find compelling and easy or no one is going to come to this party for long. Consumers will not accept Windows or Netscape, we have to think very differently.
The consumer in this new world holds the ultimate power. It will be our job, Tandem's and our partners, to make the right technology available to accomplish all of this.
If you make a list of the seven or eight major kinds of requirements of ITP, you'll find that Tandem can fulfill them all...today.
And don't forget, the cornerstone of moving value across the net is Trust. Trust in the brand of the company delivering the solution.
The Bottom Line is simple: ITP is Tandem.
Just as Tandem was, and is, OLTP. Although the technical challenges are different, the qualities required for one are identical to the requirements needed for the other.
Scalability...
Clustering...
Security...
Reliability...
Fault Tolerant...
And Non Stop.
Only one company has the expertise and the experience to make it happen.
Only one company has the strategy to get there. For commercial solutions and for the telecommunications market, for the business user and for the consumer.
And only one company has taken the concrete steps to make it so by developing a solutions architecture designed to meet the demands of ITP.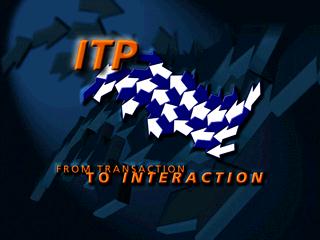 Tandem.
(Roll partner videos)