KURT FRIEDRICH
Tandem Senior Vice President and
General Manager Parallel Systems
Group Business Unit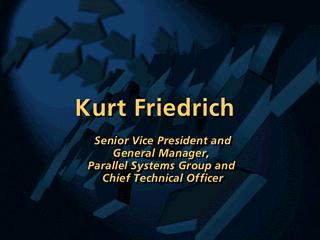 As Roel Said, Tandem is providing the unique servers to build the an Internet Infrastructure capable of supporting reliable transaction processing applications.
What does the NYSE have that the Internet badly needs?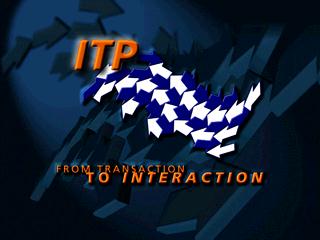 Reliability
Scaleability / Huge Volumes
Massive Throughput
Data Integrity
Tandem is applying its strength in addressing the class of challenge presented by the NYSE and others, to solve these problems for ITP. We started with the critical foundation --> Clusters.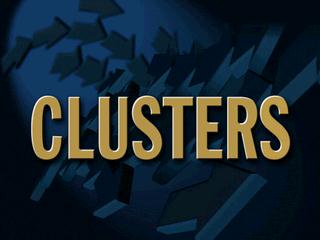 Clusters provide for
Scale
Redundancy (reliability)
Throughput
The 3 biggest weaknesses of SMP servers
So, we designed ServerNet, putting 20 years of clustering H/W and S/W expertise into that design.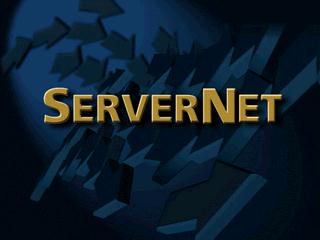 ServerNet is Tandem's SAN (that's system area network) technology that is being licensed to many leading PC Server companies such as DEL, NEC, & CPQ.
ServerNet uses a highly intelligent mesh interconnect structure that binds together unlimited numbers of CPUs, disk subsystems, and communications adapters - removing the bottlenecks of SMP memory bandwidth problems or and overloaded "bus" architecture found in almost all other servers. In addition, ServerNet has multiply redundant paths so that it can tolerate failures while providing the cluster with uninterrupted throughput.
We feel that in the same way that Tandem used FT technology to make OLTP a large market, ServerNet technology will enable the transformation of the Internet from shared reading of static pages, to this new ITP world that Roel introduced.
Earlier this year, we shipped our first ServerNet S4000 UNIX systems to meet the demanding needs of reliability in the Telco Industry.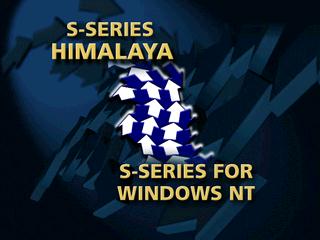 Today we are adding two new ServerNet families for Himalaya and Windows/NT.
Our new Himalaya family includes an entry priced S7000 and the superfast, R10,000 based S70,000. These systems are:
dramatically faster

much less expensive

fully binary compatible with existing Himalaya K series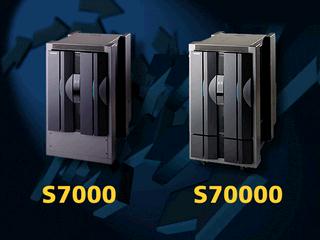 These state of the art systems are perfect for growing Tandem's traditional businesses in areas such as OLTP and Decision Support.
With the addition of ServerNet, these systems can now move the massive amounts of multimedia I/O that are now slowing down the Internet and Intranets. These systems, when clustered with ServerNet, can handle an unlimited number of high speed communications channels, such as T3 links.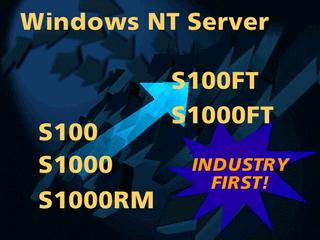 Today we are also introducing Tandem's first Windows/NT clustered systems. We are carrying over much of the FT and scaleability technology from the Himalaya family and combining it with the dramatic price/performance advantages that only Intel/NT servers can offer, to introduce the most affordable, reliable, scaleable NT family in the industry.
Because of our joint development with Microsoft, we have the insight and access to introduce Wolfpack compatible clustering now, yet still providing a perfect upgrade path to Wolfpack when it becomes available.
We are offering a wide family of NT servers, all using the latest 200 Mhz Pentium Pro, in small configurations, 4-way SMP towers, and rack mounted systems capable of holding clusters of 4 way systems with Raid disk farms.
In fact, in the demo area, you can see the first demonstration in the industry of a failover Wolfpack beta-like configuration.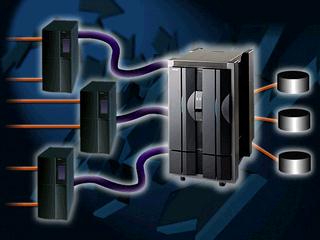 Both our new Himalaya and NT families are outstanding, but imagine the possibilities that Tandem can deliver when we use the high speed, low latency ServerNet to connect an NT cluster to a Himalaya cluster.
From NT this hybrid cluster inherits
Ease of Use
Ease of programming
Thousands of applications
(including many Internet / EC applications)
From Himalaya the cluster inherits Massive Scale, True NonStop computing, & Data Integrity.
When major corporations, Telcos, and Internet Service Providers are looking for Internet solutions that they can quickly deploy, grow in massive increments every week, and provide "dial tone" type reliability, Tandem's NT/NSK hybrids can do the job, today!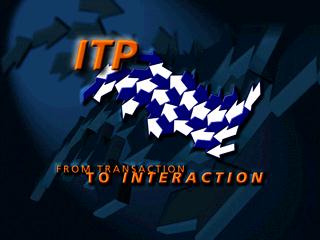 These powerful new systems provide the foundation for ITP systems. And now Tim Wild, VP of Internet and EC will describe Tandem's ITP solutions in more detail.