TIM WILD
Tandem Vice President
Internet and Electronic Commerce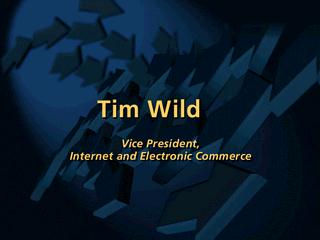 Good Morning.
As most of you already know, in this business too often when we talk about rather high-level technologies we may not communicate clearly how these technologies benefit customers.
Today we are going to make our ITP vision crystal clear, and show how ITP benefits real businesses in the real world.
What we are introducing, after all, is more than just technology, it is a business architecture.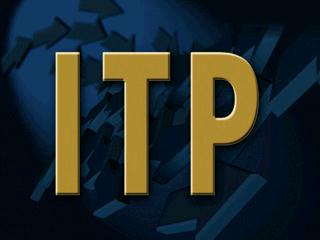 This is not blue sky and speculative. It is real, it is tangible and it is available. These are products you can build a business on.
As we have already said, for commercial activity to flourish on the net requires a foundation of trust.
I think that there is little doubt that Tandem has an enormous bank of trust in the industry and among our customers.
What we are now doing is extending and scaling the technology that enables trust into new areas of interactive electronic commerce.
What's essential is mapping appropriate technology solutions to key aspects of a business.
So before I introduce our new products, I'd like to introduce you to the architecture of Tandem's ITP.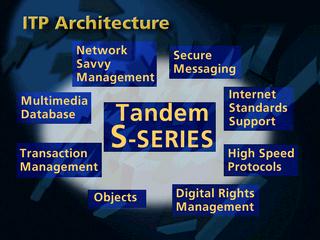 The core asset of any modern business is its information base. Machinery comes and goes, but the database goes on and on.
Up until now most of the data a business stored was only text and numbers. Now envision a quantum leap in stored data with multiple, rich, new media types. Obviously you need to have the most capable technology to manage it.
The Internet is generally served by a network of machines, you need to have unified and integrated management of it all.
If commercial information is moving, you need to have secure messaging that complies with accepted standards.
If your site has web pages, and I think it's a safe assumption that it probably will, you'll need to manage those pages, the underlying code including Java and ActiveX, and the site itself.
Communications?
Absolutely, and the highest speeds as soon they become available both for private and public networks. This needs a continuos forward path.
If you are selling information, whether it is text, audio, video, whatever...you need to manage the rights and secure that data so it is only accessible by those who have made appropriate payment.
The Internet and intranet are client/server environments. The current model of client/ server has three tiers that span a multitude of hardware and OS platforms. ITP architecture has to go cross platform to work with established and emerging object management standards, such as CORBA.
Above all else, if you are building ITP, don't forget the middle word is "Transaction." So obviously, you are going to want to manage transactions.
At the center of this ITP solar system is the star... ...ServerNet. Tandem's ServerNet.
ServerNet is the most revolutionary architectural innovation since RISC and SMP. It is the world's first SAN, system area network. ServerNet provides massive system and IO bandwidth by not forcing data through the processor at every datapath.
This is particularly relevant in the Internet/Intranet world.
So how does all this manifest as real products? Let me take you on a brief tour of our ITP solution server family and you'll see how we have aligned these needs of ITP with our technologies, and map them to a business.
Today, we are announcing 6 ITP solution servers, packaged for what we have identified as 6 critical aspects of a business.
ITP Messaging, ITP Commerce, ITP Intranet, ITP Matrix, ITP Media and ITP CTI.
Let me introduce you to our new server family.
Messaging is an area where traffic has grown enormously in the past two years. Most of it on public networks.
Certainly there is an explosion of e-mail traffic. And now that e-mail traffic is starting to carry more voluminous, media-rich attachments.
However, one of the most important messaging application is EDI, or electronic data interchange. And most of that information traffic moves along private networks.
The cost of utilizing and maintaining secure private networks is extremely expensive. Now it is possible to move that traffic to the less costly public network, the Internet. Possible, as long as there is security and integrity.
Now Tandem introduces ITP Messaging.
Historically, we have long been the leaders at secure EDI technology on private networks. Now we are extending that expertise to the Internet. From the private space to the more cost-effective public space.
This is an easily implementable solution that can save businesses a fortune.
In order for electronic interactive transactions to take off. You've got to have people believing in it. There needs to be confidence and trust. And you've got to make it compelling enough that people will want to use it.
Tandem's ITP Commerce enables both.
One example of a commercial activity that is already emerging is home banking. No one likes having to deal with the bank, but it's a part of life.
Home banking offers a friendlier, more relaxed setting that empowers the individual, and enables the bank to push service out to their customers.
Right now the interface of homebanking is not compelling, but suppose it looks like this.
This may look like fun and games, but behind this game-like facade are real live transactions, real services, real banks and real money.
Tandem's ITP Commerce can handle millions of these transactions at once, serving both the graphic elements and the business aspects of the underlying interactions. All with perfect security and trust.
This model applies not only to banking, but to any sort of retailer or catalog business that realizes the value of the net.
The intranet is a compelling business and user proposition. The intranet is the first paradigm shift in computing that hasn't required business to scrap every bit of hardware and/or software they own.
However, despite the simple front end, the real work is in gathering all the pieces together.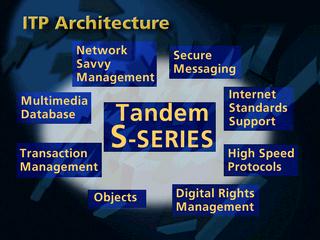 We offer Tandem ITP Intranet as the solution to help unify an organization. To build your infostructure. It is based on Microsoft's NT server, IIS and BackOffice.
If you are running a business on the intranet, chances are that you will be connected by public networks, so it must be secure.
So where does interactive fit in?
Well, if we really are talking about workgroups, wouldn't it make sense if all the people involved in a group effort could work with the same document in real time?
Say you and an associate on the other coast are charged with formulating a budget for your division. With an interactive web based application enabled by ITP, you could both see and manipulate data on the same document at the same time.
This puts everyone on the same page.
Some businesses have already made significant investments in private networks and hardware specific applications that customers are unable or unwilling to give up.
The Tandem ITP Matrix is a bundle of cross-platform software products, tools and services designed to help you integrate legacy applications with the Internet and corporate intranets.
The base configuration of the iTP Matrix Server includes components which enable customers to tie web servers, FTP servers, database servers, application servers and Tandem Pathway servers together into a single, integrated web-enabled information delivery system. This is particularly useful for building full-scale electronic commerce infrastructures.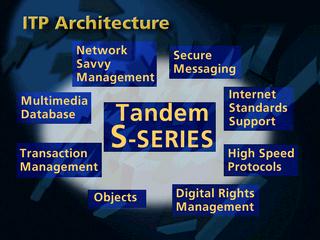 As desktops become more powerful, and more and more bandwidth is available for moving media rich content across the web, such as audio and video, there is still the back-end story that must be dealt with.
How can a business manage and distribute these large digital properties without performance bottlenecks.
And if digital assets, such as music or video on demand, are actually the product being sold on line? How can that business collect and track payments for the requested products.
Tandem's ITP Media can easily meet the low-latency high-bandwidth requirements to deliver this rich media content.
One of the important aspects of interactivity is having the network respond within what we'll call an interactive time frame.
As an example, if you are on a site that sells CDs you want to click on a title and want to hear the music, right away. Then decide if you wish to perchase the whole CD.
If the digital media is photos or articles or something less tangible than a CD, you're going to need a way of collecting small increments of payment, or nanopayments as well as managing the rights for that usage.
We are working with the some of the most innovative companies in the nanopayment field and have made that a fundamental part of our ITP Media.
As you can see, ITP Media is more than just a way to move media onto the net quickly. It's a way to make media transactions on the net a viable business.
Most businesses that are consumer-oriented have already made very large investments in CTI, or Computer Telephony Integration.
That gives them the ability to identify incoming callers, and match them up to personal data from a database before the phone is even answered.
Usually the person at the Call Center sees a screen pop, so that know a good deal about the caller.
That is all a part of relationship management. Make it easy for your customers. Know what they need so that you can serve them better.
At the same time many companies are putting up web sites that offer information about their products and services.
The problem is, that these companies are building two information systems that are isolated from one another. For a service oriented company, that is a problem because the customer is not necessarily getting the help they need without human interactivity.
Tandem ITP CTI provides that leap.
The web and the call center become integrated into one information system that enables the customer to self-serve, and when necessary, have an instant and direct link to a call center agent who knows exactly what they are looking for.
Now I'm going to show you how these two streams of information merge together to help businesses build relationships with customers.
Suppose I'm interested in a vacation, not an altogether outlandish notion.
(Travel demo-- transcript not available)
This is relationship management. And making customers feel empowered and call agents more able to serve them intelligently is good for business.
And now I'd like to hand it back to Roel. Thank you.