Booth Duty Confessions
By Monika Halkort
Have I been cheated ? They told me it was gonna be easy going. Well this was definitely not what I would call a slow day. It sure was great fun to work the MediaCast booth this morning at WebINNOVATION. Funny how you can make people happy just by showing them that video can actually work on the web over a 28.8 modem. And not only that, you can even have it live and streaming! They finally seemed convinced by watching the keynote address from this morning stream in real time.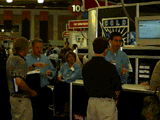 If all the projects talked about by attendees passing by the booth today would really happen, gee we would be netcasting all throughout this year. I am still not sure though if we should go for netcasting this one guy's son's Bar Mitzva. We might be better leaving this for his uncle Fred to do himself. But the U2 concert - sure well take that one, hey we are talking frontier experience here! Bands seems to love us anyway. Nine Up, our biweekly rehearsal studio broadcast of local bands in the bay area, was a hit demo for people and is going to be pretty busy over the next couple of weekends. Five guys even promised to show up in our San Francisco studio for a live broadcast jam session.
There were a few bummers in my day though. Some guys will just never get it- however simplistically you explain it to them. The weirdest question I got so far: "Well what's the product then, honey?" Well, buddy, theres not one product. The product is what you want it to be! There still seems to be a lot of confusion about what netcasting is really capable of. "Is this event management?" "Are you an Internet Service provider?" Well I'd rather call it a live video production crew that not only knows how to make your event look right on camera, but also knows how to broadcast it on the web. "Is it possible to cover an art event in Paris? Live interviews and performance videos?" You bet! Pretty much anything is possible and people are enthusiastically responding to the capabilities that technology is placing into their hands. That's what netcasting is all about. Whatever it is you want to share with a big audience but can't afford or manage to get on network TV - netcasting can make it happen: Live from your event to the entire world...