By Clare Kleinedler
Before last night (Fri., May 31), I was not a believer. "Joan Osborne is great...she's really talented, and she's a great singer, and she's a strong woman, blah, blah, blah," my friends would tell me.
"She looks weird with that nose ring," I would retort, stubborn as hell.
"Convert! Saint Joan speaks the Good Word," they all said.
"I'm happy in my own faith, thank you," was my usual response.
A pop star like Joan Osborne is hard to like. Here comes someone out of nowhere, who takes over the airwaves, billboards, television and the covers of every other music magazine. Where did she come from? Why does she sing about God all the time? Why should I even give her a chance? Everyone and their aunt loves her, why does she need my love?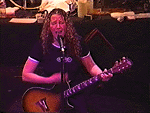 In all honesty, I never gave her a chance. I will admit that my refusal to accept her was more or less because everyone else seemed to like her, and I was sick of hearing that song, "One of Us." In fact, I was pretty reluctant to review this show, because, as I told my editor, "I hate her." I filed her in besides Hootie and the Blowfish and Alanis in my "I hate these artists" drawer of my brain. I saw her as a no talent, commercial waste of time.
Well, I will be the first to admit that I was wrong wrong wrong. Her performance at San Francisco's Warfield Theater last night was truly a religious experience.
Osborne was the embodiment of confidence and femininity as she strutted on-stage in a tight black T-shirt and matching slip-skirt. Starting off with slow, long howls, she broke into "Pensacola," as she rocked her hips back and forth to the blusey bass rhythms. St. Joan she was, as she commanded the crowd to "Stand up! Get up and feel sexy and spiritual." Row by row, the people began to rise, obeying her request.


Pensacola, 1.8MB
(30 sec video clip)
Pensacola
(30 second excerpt)
RealAudio 3.0 Auto
RealAudio 14.4k
RealAudio 28.8k
Sun-AU 235k
MPEG 235k

As Osborne bellowed out her current single "Right Hand Man," the crowd went nuts. Made up of ex-hippies, indie-college types and little kids, the entire front section danced to the song like a bunch of crazed Hari Krishna's. The scent of kind bud filled the room, and the sound of Osborne's scratchy vocals boomed out of the speakers. Osborne followed with "Help Me," and "Spider Web," belting out every note with obvious enthusiasm and strength.
Osborne's stage presence is truly hypnotic. She isn't afraid to show off her sexuality. Every inch of Osborne's voluptuous body was visible in her tight outfit, and you could tell that she loved showing it. But Osborne's sex appeal is more Aretha Franklin than Pamela Anderson; her powerful attitude draws more attention than her physical features.


Right Hand Man, 1.8MB
(30 sec video clip)
Right Hand Man
(30 second excerpt)
RealAudio 3.0 Auto
RealAudio 14.4k
RealAudio 28.8k
Sun-AU 235k
MPEG 235k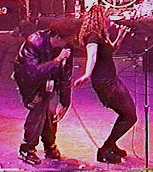 For an encore, Osborne was joined by Spearhead's Michael Franti. Osborne sang back-up to Franti's mellow trip-hoppish rap, and the sexual tension between the two of them was an added bonus. Coyly pulling Franti's microphone cord toward her, Osborne howled longingly as Franti slithered her way, staring deep into her eyes. The 2000+ people in the audience also fell under her spell, swaying along to the music.
Forgive me God, for I have been converted into the Church of Saint Joan.
St. Teresa
(30 second excerpt)
RealAudio 3.0 Auto
RealAudio 14.4k
RealAudio 28.8k
Sun-AU 235k
MPEG 235k