The crowd that formed outside of the door was pumped, ready to go. Briklin, age 21, occupied a spot at the front of the line with his friend Poppy. When asked why he had come out so early for the show, he answered that Luscious Jackson has "style; they have soul." The couple had taken a two hour trek up from Santa Cruz, the beach community in which they lived. LJ is "pretty cute," Poppy added, and also mentioned how much more she enjoyed LJ's music now that the band has added the hot-wax-spinning talents of DJ Alex Young. "It adds flavor," Briklin nodded.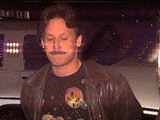 Phil, from San Francisco, is a die-hard LJ fan. He commented that he liked the "postmodern urban landscape, [painted by LJ] that takes disparate aspects of culture and weaves them into righteous sound."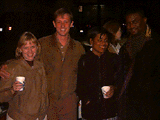 Two 30-something couples who were attending the show together -- Kathy and Tim Hider, and Mireya Manigualt and Thomas Cryer -- explained their presence by the fact of having been "big fans of the Beastie Boys for quite a while now."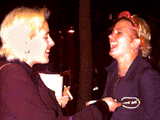 The doors opened, and the crowd piled in.
previous report or next report

---
Copyright © 1996 MediaCast
Last updated 96-10-18 by falcon