During the opening act, Chris McDermott and his wild combo, I had a chance to chat with a couple of the band members. Here is my quick report.

Kate, the drummer, joined LJ in 1992, and appears in two songs on the first album, "In Search of Manny." A casual, easy going woman of 30, Kate has been playing drums since age 14, inspired by Manhattan's punk rock scene, where she grew up along with lead rapper/guitarist Gabby.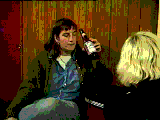 Pint sized, energy-filled Gabby arrived, and plopped down on Kate's knee. "Oh, I'm crushing you," she smiled, and pulled up a chair. Kate and Gabby have been playing together for over 15 years. They shared similar music influences, Kate noted, and have been friends forever -- "since age 3," said Gabby.
When asked about what kinds of music they listened to these days, Kate thought for a while. "Well, let me think about what CDs I brought with me on the tour. Judds, Rufus. ... Chaka Khan's band. But ask Gabby about the Flaming Lips."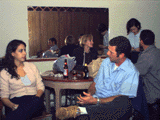 "I love the Flaming Lips," Gabby smiled. "They rock so hard. They're brilliant."
Both Gabby and Kate spoke enthusiastically about their label, Grand Royal (the owner of which, Mike Diamond, is also a close friend), the Beastie Boys, whom they've known "forever," and the new direction their music is taking. The new angle now includes a DJ as well as a change in their emphasis to live music as opposed to the sampling that thrust them into the limelight with their first CD, "In Search of Manny," in 1992.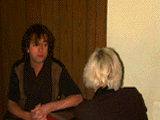 I also had a chance to exchange a few words with LJ's producer, Tony Mangurian. Not only did Tony produce LJ's first two albums (as well as a large portion of "Fever In," their latest) but he also is a longtime performer himself. A guitarist and drummer who has enjoyed jamming with Bob Dylan (with whom he is currently working), Tony is now touring with LJ -- an usual call for a producer -- playing percussion, for the "fun of it."
previous report or next report

---
Copyright © 1996 MediaCast
Last updated 96-10-18 by falcon