Turning back to their first album, the band strode hard into "Daughters of the Kaos," from "In Search of Manny." With Jill's haunting and clear croon and Gabby's low husky rap, "Kaos" demonstrated truly what makes this band special. "Semi-automatic sisters/I might be strong/But don't call me mister/Playing with the status quo of the soul/Enjoy Babylon/Kaos/K.O./No no no . . . the kaos never lets you go."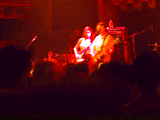 Hearing "Kaos" juxtaposed with "Naked Eye" and "Energy Sucker" told the abridged story of the evolution of a band ... much akin to TLC from "Oooh on the TLC Tip" to (the breakthrough) "CrazySexyCool," Bjork from "Debut" to (the dazzling and award-winning) "Post" and Beck from "Mellow Gold" to "Odelay." Tons of sentimentality may exist for the rawness and edge of the early work, but it is hard to argue with a straight face that LJ's "Manny" comes close to achieving the polish of the more recent releases.
Indeed, LJ has taken on a slightly new direction this year, with the contribution of producer Daniel Lanois and a focus shifted somewhat towards live performance, and this concert was clearly largely about marketing their new album, "Fever In Fever Out." Although only six of the 16 songs the quartet played Saturday evening were from the new album, the strength, power and versatility of these six ensured the crowd that they have a lot to look forward to when "Fever In" hits the shelves on October 29.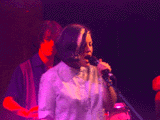 The early-on three-song "Fever In" set provided the first hints of what we can expect. The hip hop "Electric," trip-hop "Soothe Yourself," and soulful "Under Your Skin" and "Mood Swing" (complete with "distortion") mark a clear progression from "Manny"'s straightforward "Life of Leisure" and "Let Yourself Get Down." A standout among the new songs, however, came towards the end of the show. Specifically, "Why Do I Lie" is a soulful-gentle-dreamy-but-funky ballad that resonates with a uniquely Luscious, TLC-meets-Breeders sound. With Jill's melodic and clear voice, Vivian's soprano harmonies, Gabby's twangy guitar riffs, and Tony Mangurian's soft percussion, the song haunts.
The concert also demonstrated -- for those who had seen the band play live over the last couple of years -- that Luscious Jackson's second release, "Natural Ingredients," is even better when performed live than it is on CD. One of the highlights of the show was undoubtedly "Strong Man" -- the "softcore" hit in which Jill croons her requirements for a "super solid" lover over Gabby's trademark sexy smooth rap and Kate's hip hop drumbeat. "When a man can/take a stand/and wash his hands/of his scams/and watch his woman stand unafraid/aid her in her fight to get paid/help her get her medicines made/let her step on out of the shade ..."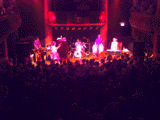 When "Here" -- made famous by its placement in the "Clueless" movie soundtrack and accompanying video featuring the four (then) 20-somethings rollerskating with Alicia Silverstone and company -- followed "Strong Man," the crowd was overcome with joy and excitement. And for good reason. With its disco beat, hip-hop Blondie raps, and Go-Go's-esque upbeat harmonies, "Here" well deserved its spot as LJ's crossover and breakthrough jam.
LJ's other three (non-encore) selections from "Natural Ingredients" were similarly powerfully executed. "Deep Shag" grooved its undeniably Beastie-Boy sounding energetic street beats grounded by Vivian's piano tapping ("I feel small when i am next to you/I feel big when I forget you/Why do you make me feel so small?"). "Angel" rocked with garage funk energy ("At home with my own mutilation/Cigarette burns in the subway station"). "Rock Freak" finished up the first set with a true Hendix-esque guitar riff, hot wax scratching interspersed with Jill's low hard bass lines, and Gabby's strong guitar noise on through to the loud and violent ending. This fab four puts on an exciting show, and DJ Alex and Percussionist/producer Tony provided frosting on the cake.
Jill thanked the audience, and they all jogged offstage.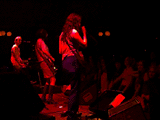 In response to the roaring audience, the women returned for a two-song encore. Bringing the room back to light, Gabby rap-purred and Jill chorus-crooned "Cityscape," LJ's upbeat yet cynical tribute to their home town of New York City. ("When I'm about to go crazy/cause I'm still living here/I just get my friends together/and we dance, dance, dance...") The night ended with "Satellite," Luscious Jackson's high paced, grungey-psychedelic harmonic rock ensemble act that similarly closes "Manny." A strong ending to a great show.
And a happy surprise it was, from these four sharp-and-so-sassy women from NYC and their percussionist-guitarist producer and wax-spinning DJ.
Luscious Jackson is growing up. Mark your calendar for October 29th, when you too can pick up a personal copy of another chapter in the life story of a band that has passed through a freewheeling youth and is moving towards an even more exciting future.

---
Copyright © 1996 MediaCast
Last updated 96-10-18 by falcon