Luscious Jackson -- with its featured single in last year's hit movie "Clueless," and its virtually unshakable association with New York punk rapping Beastie Boys -- is settling in comfortably in the encyclopedia of U.S. pop culture somewhere under "teen icon."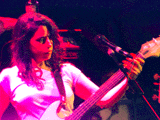 Thus, at 10:20 PM, when the (undeniably cute) four-woman band leapt onto stage at the Great American Music Hall in San Francisco, California, to the high-pitched cheers of a young, anxious primarily female crowd, it was uncertain what to expect. Composed primarily of teenage girls true to the Drew Barrymore/Alicia Silverstone tradition, there was no shortage of nose-rings, barrettes, mini-T's or thigh highs in the room.
The youthful energy of the crowd painted a picture that stood in strong contrast to the antique Victorian flavor of the 600-capacity venue. The Great American Music Hall -- with its burgundy pillars stretching up to and supporting the high ceiling, its gold color mouldings that wind their way around the balcony railings and down the mirror-laced walls, and its large wooded dance floor and marble-looking tables -- creates nothing short of a retro feel.
Nonetheless, by the time the band had hit its third chord and sung its first few bars, it became more than clear that the tenor of this concert had a lot more to do with the mature and polished setting than it had to do with the young and naive audience. Indeed, four and a half years after releasing their first LP, "Looking for Manny," Luscious Jackson, with its current concert in promotion of the band's forthcoming third CD, "Fever In, Fever Out," can finally cast away the teen-queen image. As Saturday night's show clearly demonstrated, LJ is growing up.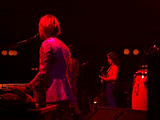 After saluting the audience, the four-woman, 2-man band (due to the guest appearances of producer Tony Mangurian and DJ Alex Young) exploded into their high-energy hip hop "Energy Sucker," from LJ's breakthrough CD "Natural Ingredients." Gabby boogied as she crooned her low rap into the mic, and Jill hit the chorus in her clear, strong voice that has brought so much attention to the band. "Hey energy sucker/I'm a goddess/Not your mother." The beat was strong; the funk was alive. Everyone was happy to be there -- even cynical me.
Having fired up the crowd, LJ segued immediately into their new single, "Naked Eye," a fast-paced funky fun trip-hop/pop rock tune interspersed with harmonies, rap beats, and a healthy selection of hot wax samples and scratches. Vivian showed off her cool and suave control of the keyboard; Tony strummed the guitar and intermittently hit the congas in front of him, exchanging smiles with DJ Alex at the wax. Kate, behind the scenes, maintained a steady hip hop/disco beat. At center stage, Jill held the strong bass and smooth lyrics, and Gabby shook herself and her guitar. There was absolutely no question that these women owned the stage, and enjoyed every minute of that possession.
previous report or next report

---
Copyright © 1996 MediaCast
Last updated 96-10-18 by falcon